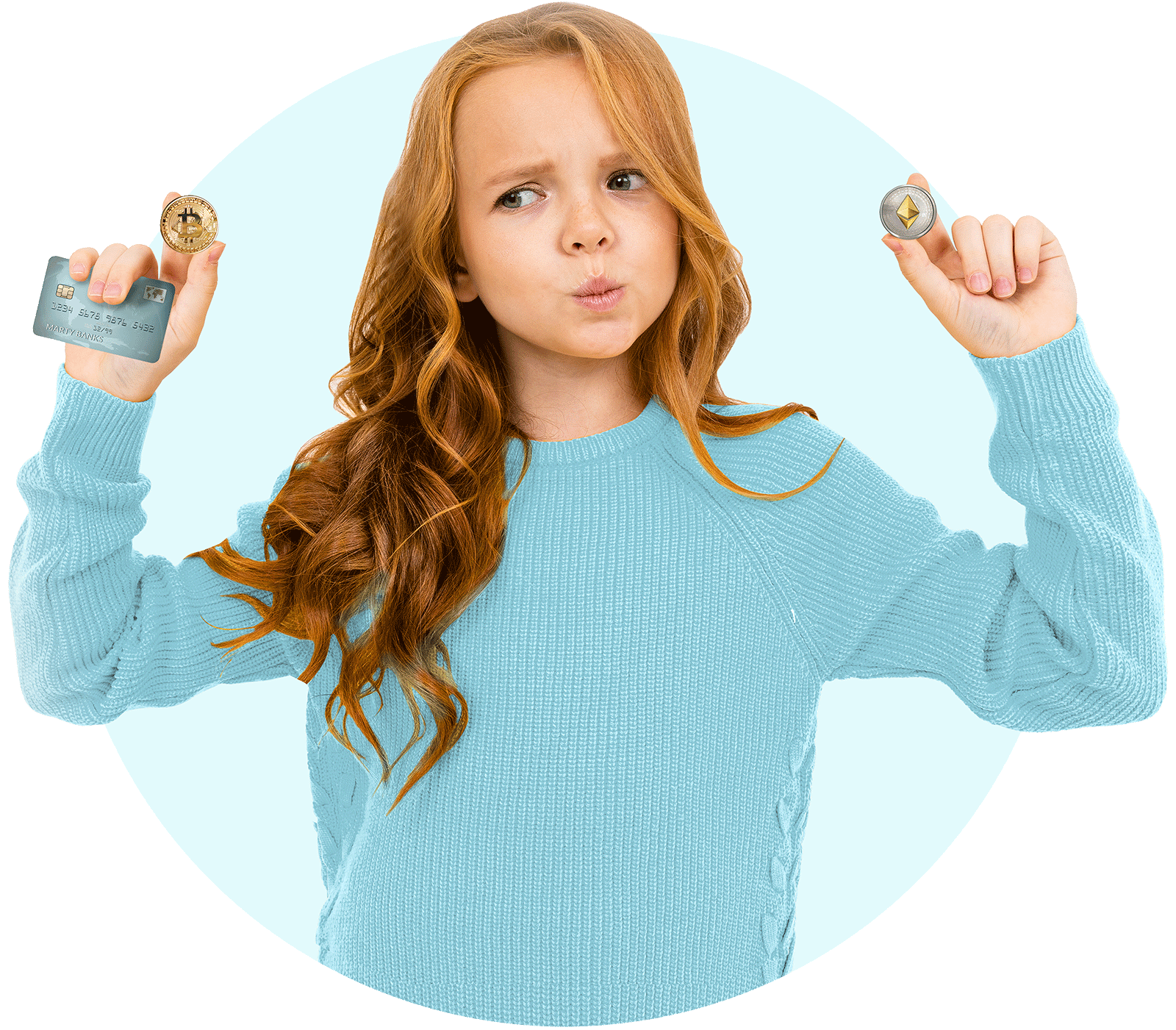 Discover. |
Discuss
. |
Demystify.
|
Do
.
Crypto Parenting

Part 1
Today's toddlers and teens will grow to live in a world where digital assets are the norm. The use of digital assets is gaining ground rapidly via gaming, to which our children are exposed daily.

Our Crypto-parenting live sessions cover the essentials of cryptocurrencies and other digital assets like Non Fungible Tokens (NFTs), so you know when and how to bring the topic to the forefront of your financial parenting conversations.

Part 1 gets you up to speed on what these technologies are, why they matter for us and for our children, and why they are here to stay.
For any adult

who wants to learn about crypto and how to explain it to their kids

Live Webinar

Instructed by Sanaa Voss
hosted by Dr. Mara Harvey

Live Q&A

to address all your questions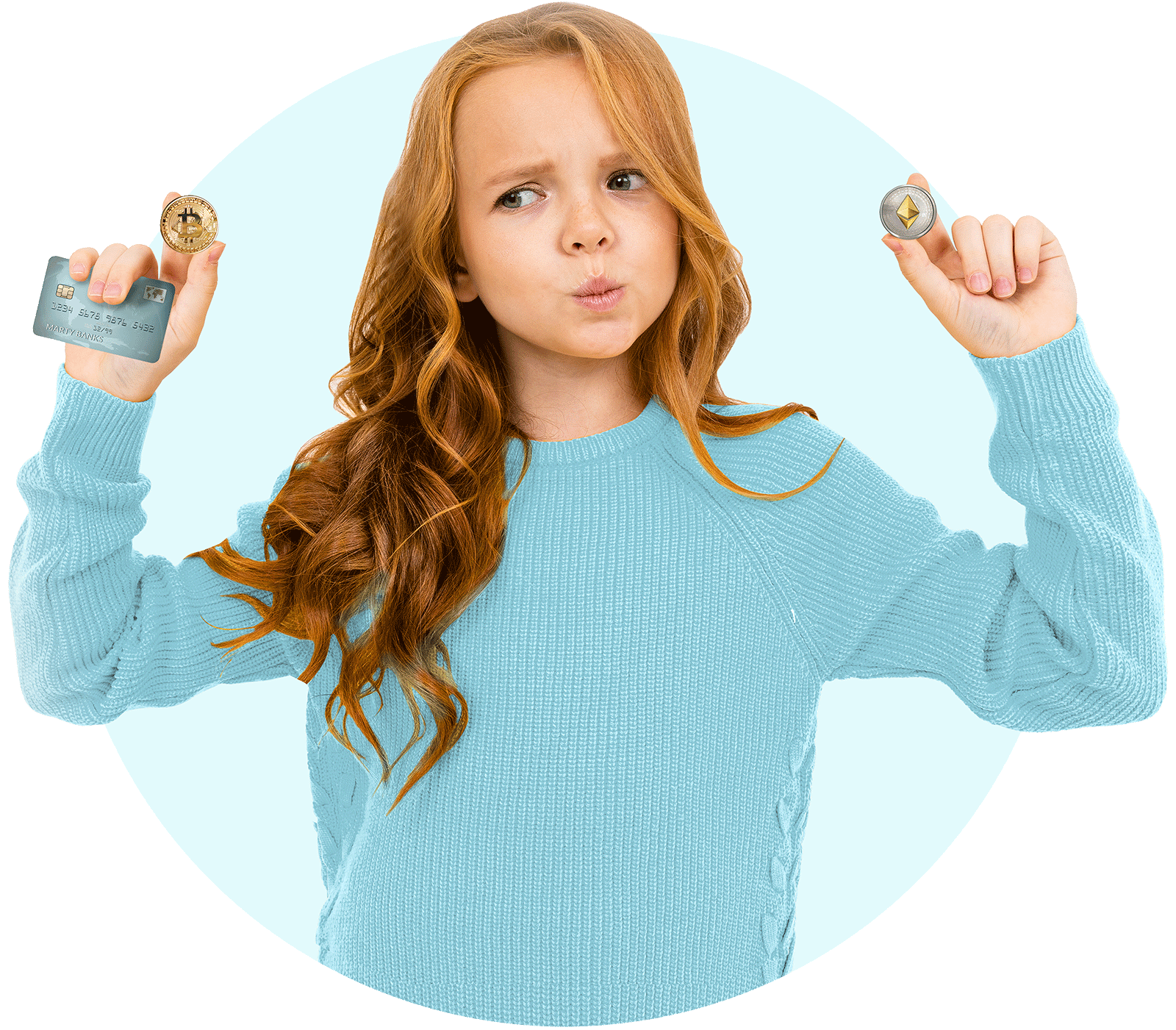 There are Two Live Sessions available every month for each part. You will be able to choose / change session date after you sign up.
What you are going to learn
Stepping into the crypto space
Digital assets, crypto, web3, blockchain. This jargon intimidates and scares off many people. If you find yourself caught up in the ambiguity of these topics, struggling to grasp what it is all about, let alone explain it simply to your child, this course is for you.

This series of live webinars will help you understand the crypto space and feel confident accompanying your child in learning about this important aspect of money and of our economy. With all the relevant insights, explained in simple terms, you will be well equipped for the moment your child starts asking about crypto currencies and NFTs (non fungible tokens).
In Part 1, you will learn:
The history and principles of money and of cryptocurrencies

What are digital assets, how they work and why they are gaining ground in our society

What are the fears and biases related to crypto, and the key elements to understand it all

Blockchain, Web3, NFTs and Metaverse
There are Two Live Sessions available every month for each part. You will be able to choose / change session date after you sign up.
*Live sessions require at least 3 participants to attend
Become your child's best digital money role model
Boost your crypto confidence!

Kids ages 11-14 who say they are familiar with crypto-currencies

Kids ages 8-10y who say they are familiar with crypto-currencies

Parents who say they are familiar with crypto-currencies

Parents who discuss the risks of crypto-currencies with their kids
Source: T. Rowe Price 2022 Parents, Kids & Money Survey
Sanaa Voss
Cryptofinance Expert
& DLT (Decentralised Ledger Technology)
Innovation Advocate

& Financial Parenting Coach
About
Hi, I'm Sanaa and I'm keen to open up the world of crypto to you.
I grew curious about blockchain and crypto for a while, before delving into the topic. I have immersed myself in the space, reading through hundreds of articles, taking several courses, and became a Certified Crypto Finance Expert.
It took me a good dose of critical thinking and effort to connect the dots, to see clearly through it all. Only then I asked myself: "why couldn't anyone explain it to me in a simple way?"
It is the desire to go back and explain to my "younger self" the important elements in a clear and holistic way, that made me keen to bring this content to you.
As a parent, explaining the topic to my own my children was a test for me. If they could grasp it, then I am doing a good job onboarding them into a world that will become part of their daily life few years from now. I was in your shoes, and I will share my experience in a clear, hands-on way.
Dr. Mara Harvey
Masterclass Instructor
& Financial Parenting Coach
& Author of Smart Way to Start
& Author of Women and Risk
About
Hi, I'm Mara, the founder of Financial Parenting World. Economist by background (Dr. Rer. Pol. Summa Cum Laude, Fribourg University, Switzerland), I am a senior leader in Finance, trained at Harvard and IMD. I have over 21 years experience in wealth management, working with billionaire families across Europe, and driving social & digital innovation across the financial industry on a global scale.
My journey in finance led me to focus on my biggest passion: Financial Parenting! I spent years exploring what wealthy parents are most concerned about: how do I teach my child the value of money, and ensure they grow up with good money habits?
Today, I am pioneering new ways to help all parents be their children's best Money Role Models. From setting a strong financial parenting foundation with my Masterclass, to accompanying children ages 3y-15y every step of the way on their financial literacy learning journey, working in partnership with renowned Financial experts and Crypto experts.
Feedback from our community
"This course offers a lot of new insights on crypto and you will enjoy learning how to bring this important conversation to kids. It's a complex topic but Sanaa breaks it down into simple terms. Thank you!"
Mara, Founder, Financial Parenting World
"This course is a wonderful way to become more confident with crypto, allowing for better family conversations on digital assets that are relevant for our children's future."
Created with